Meet The Models: Mili & Amelia
Meet our model muses from the Spring Summer 19 campaign. Mili Piñeiro & Amelia Zerbe give us insight into their beauty tricks, exercise regimes & favourite looks from the SS19 collection.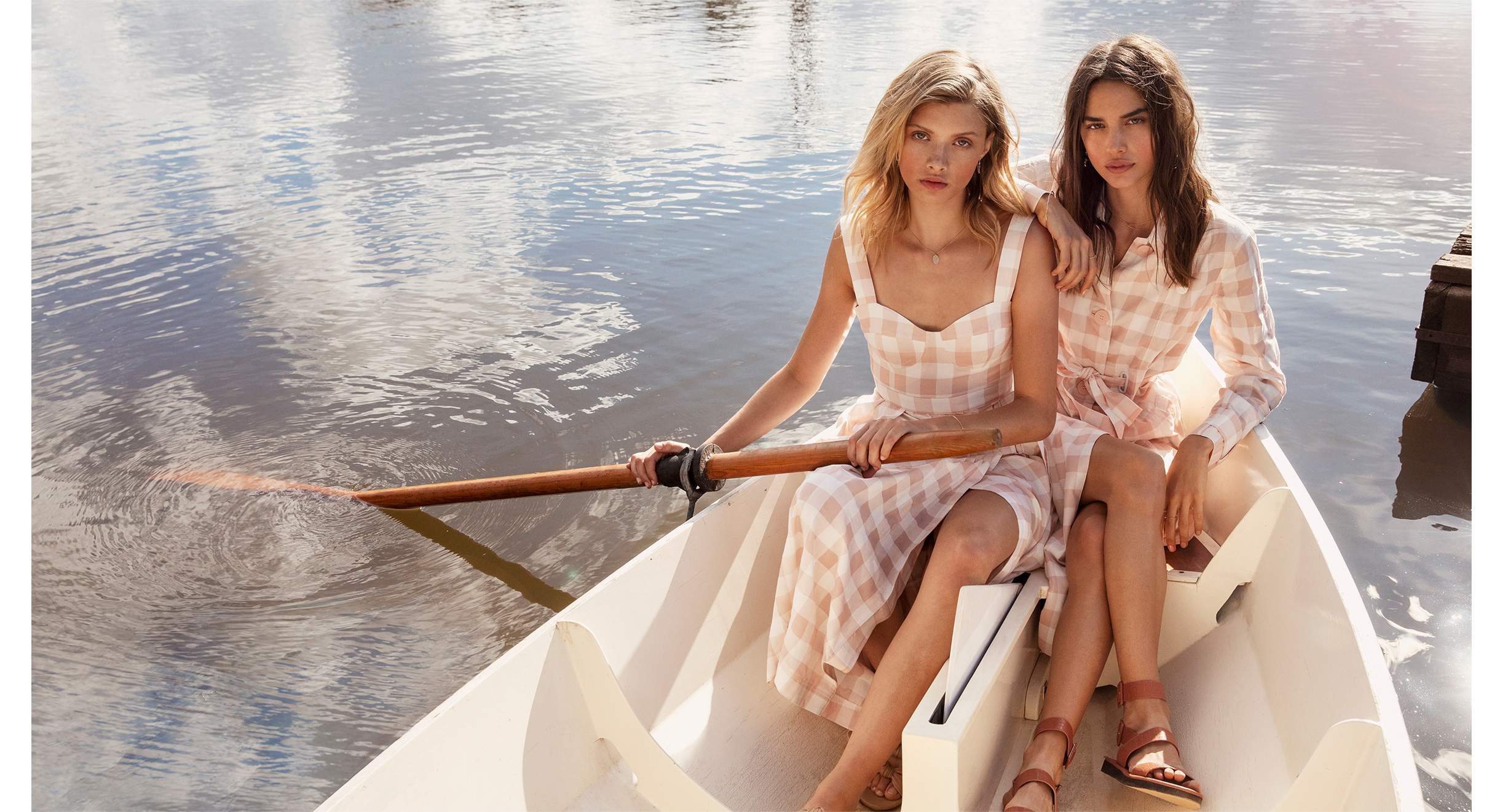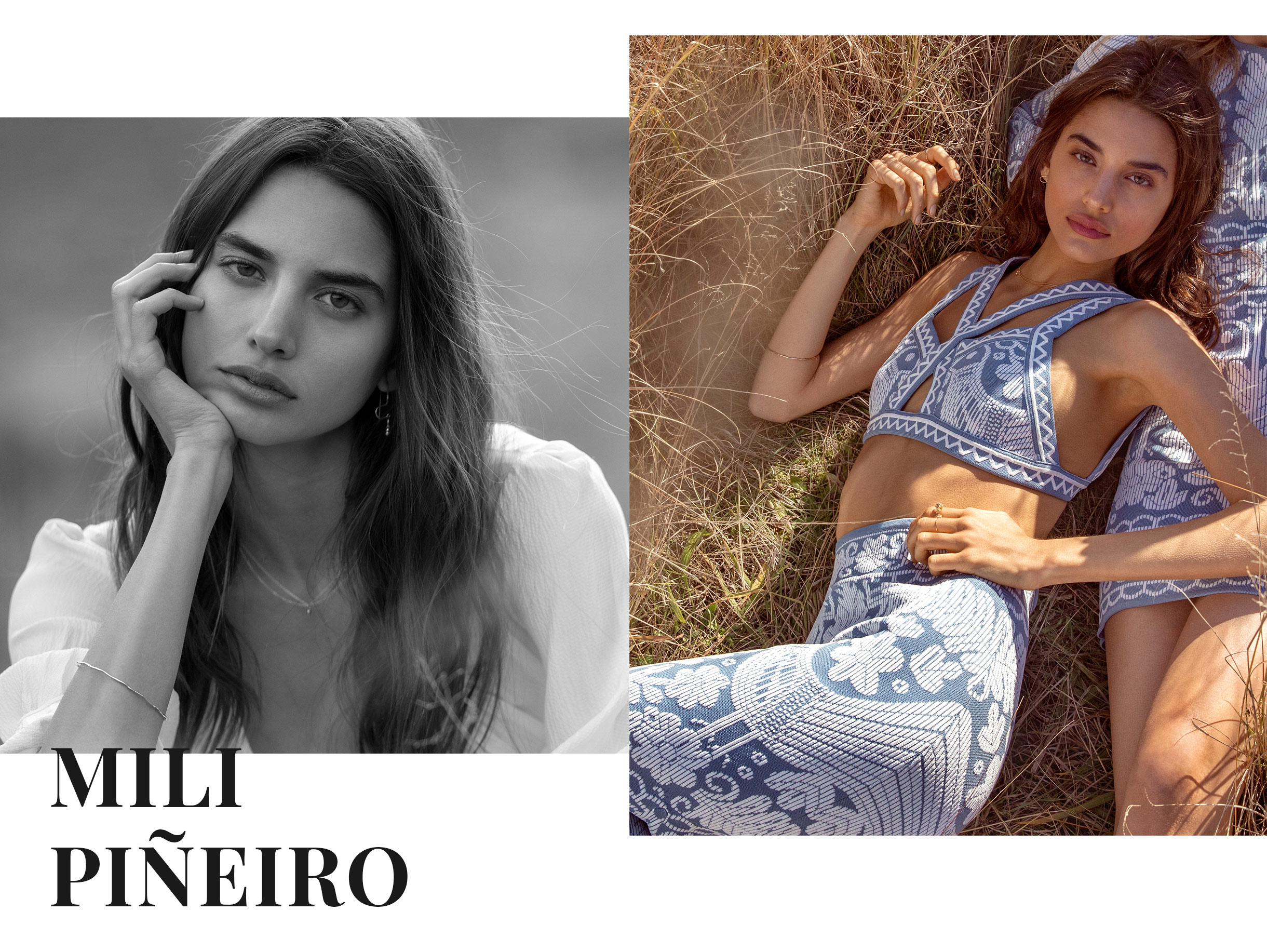 1. What's your beauty routine? Do you have any top tips for when you travel?
Mili: My routine is really simple, I always try to clean my
face well, take off all the makeup and nourish it with a good cream. I love
the Chanel night cream before going to bed, and in the shower I always clean my
face with a gel deep clean from Neutrogena, as well as exfoliating 3 times a
week. When travelling I always try to put nourishing cream on my face, because
it becomes so dry when I fly. When I'm not working I try not to use too
much makeup, I like letting my skin breathe.
Amelia: In the morning I'll wash my face with cold water to wake myself up, especially if it's before coffee is within my reach.The same thing applies when I'm travelling. Although, one thing I've learned the hard way is to ALWAYS take off your makeup at night! Even if you're feeling lazy!! And if you're travelling, pack on that moisturiser! I'll even apply some on the plane and in the airport on long trips.
2. Are there any beauty products you can't leave the house without?
Mili: Yes, I always have an eyelash curler in my bag, I feel it changes my look a lot.
Amelia: I swear by eyebrows. Mine are quite light and fine so you'll never catch me without my eyebrow pencil. Oh! And lipgloss, duh.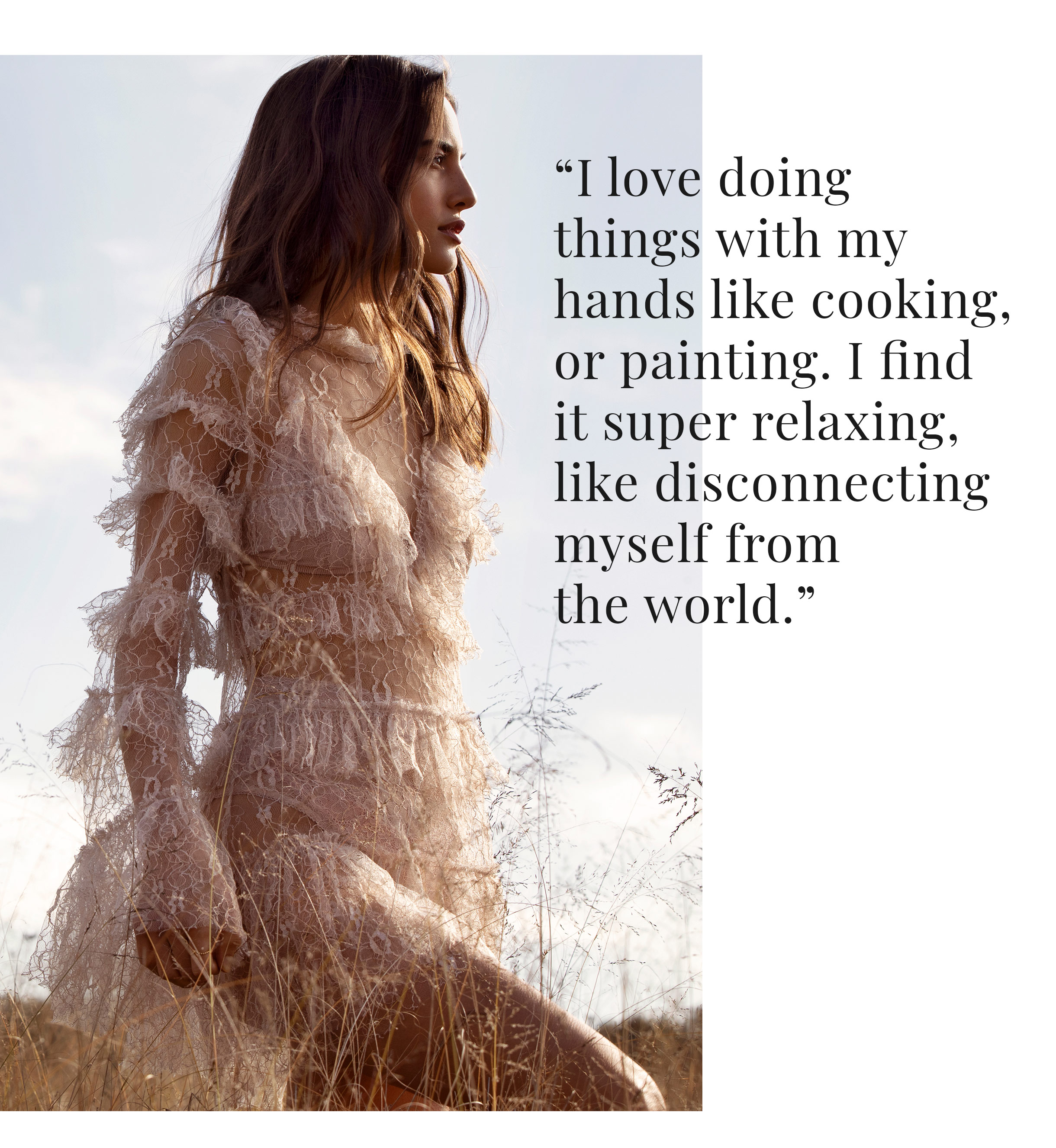 3. What's your exercise of choice? And how do you fit in exercise when you're travelling so much?
Mili: I love HIT (high-intensity training) and mixing it up with some functional gym. HIT is super effective and so with only 1 hour, you are done. What I love about the
functional gym is that you use your body weight so it gives you a super feminine shape, it doesn't bulk you up like heavy weights can. I try to exercise as much as I can, but of course it's not easy when I'm travelling a lot. So I try to do it after work if I'm not too tired and make use of the weekends. I also like walking to work.
Amelia: Personally, I love running, I always start with it when I hit the gym. As for making time for exercise, I believe you'll always have time for things you want to have time for. Which, coincidentally, is also great relationship advice ladies!
4. Who is your fashion icon?
Mili: Karl Lagerfeld. What he did was beyond amazing and he was a really hard worker, beyond talented, and a nice person. I think when you love what you do and work with passion and drive, magic will happen. And he was exactly that example.
Amelia: Kate Moss. Iconic.
5. What do you love most about modelling?
Mili: Getting to know so many nice people and travelling to amazing locations. I am always working with new teams, experiencing different cultures, it's amazing.
Amelia: I love editorials, they're so much fun to shoot. I also love working with teams, it can make a long day so much fun.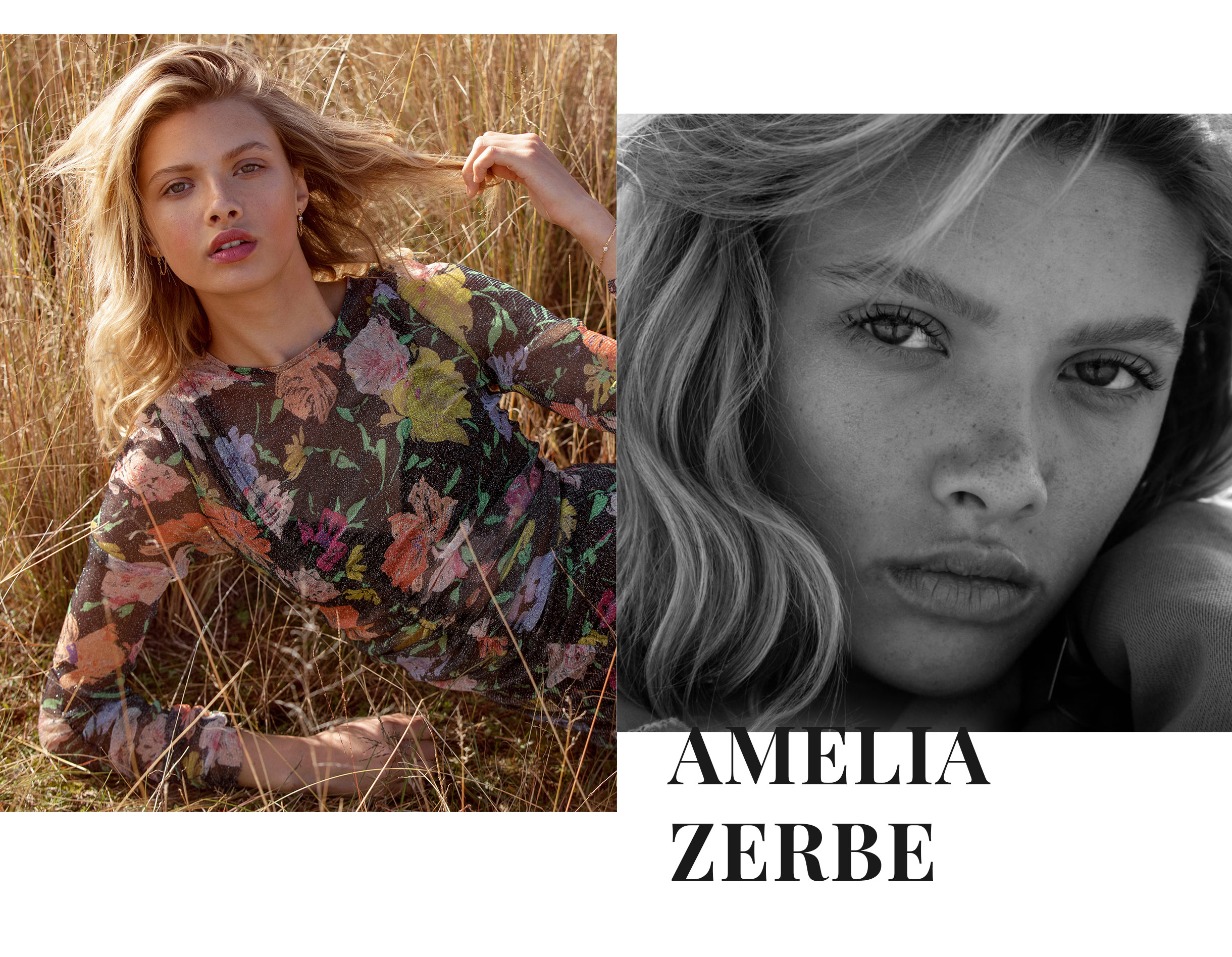 6. Where's your favourite place in the world and why?
Mili: I think Capri, the beautiful food is amazing in Italy and I have some of my happiest memories there with my sister and friends.
Amelia: I know I'm supposed to say a travel destination but I really have to say my bed. It's just so comfy.
7. Do you have a hidden talent?
Mili: Haha, I don't think I do! I love doing things with my hands like cooking, or painting. I find it super relaxing, like disconnecting myself from the world.
Amelia: I wouldn't say it's necessarily hidden but I love to sing and act!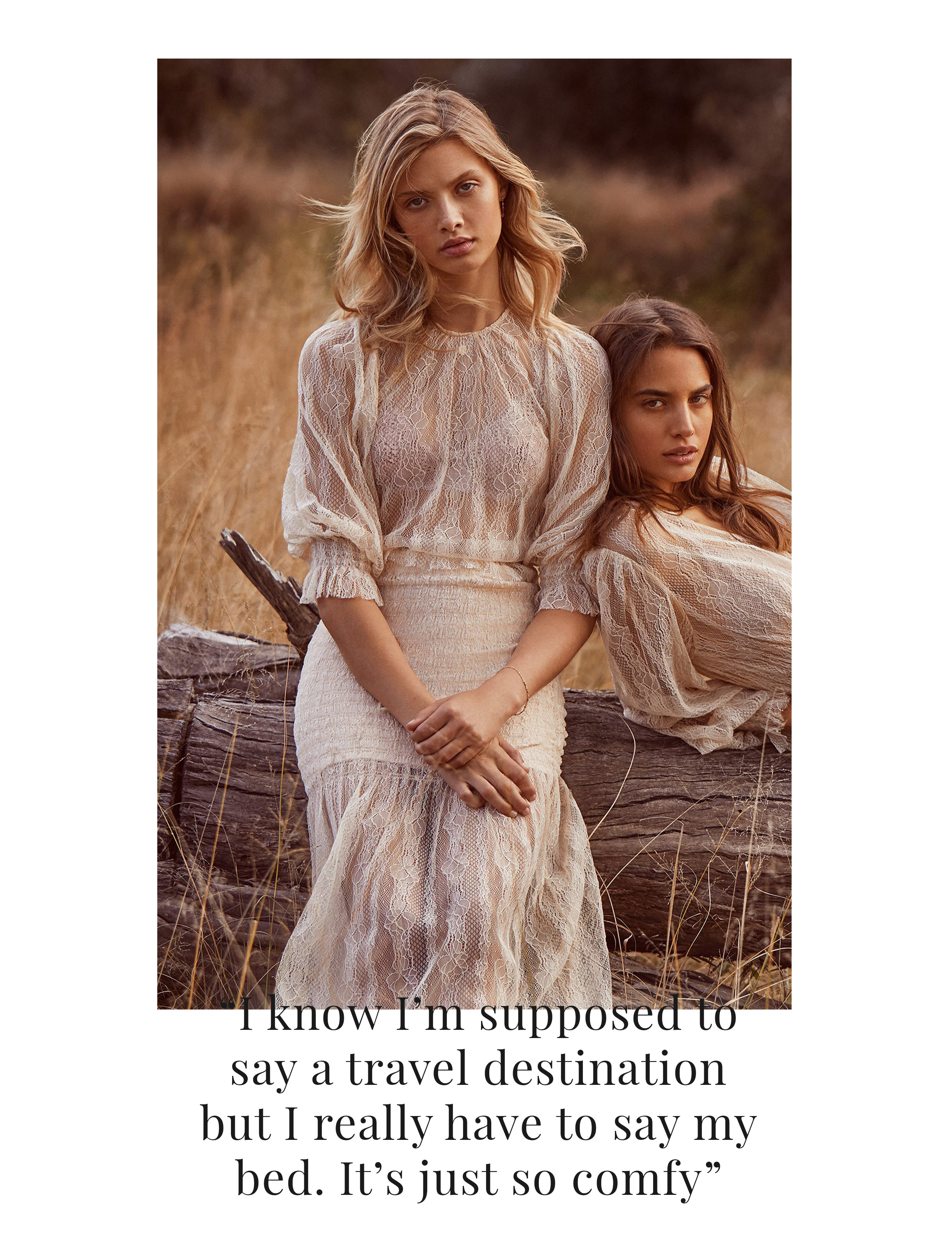 8. If you weren't a model, what would you be doing?
Mili: I'm studying law by distance, so for sure something in that field!
Amelia: Probably singing or acting. Hopefully both.
9. What do you love about alice McCALL?
Mili: I love how feminine the clothing is, Alice McCall understands how a woman wants to feel – you feel beautiful, sexy, elegant and cute at the same time.
Amelia: Love, love, love their clothes, they make me feel like such a lady!!
10. What was your favourite look from the SS19 campaign shoot?
Mili:I completely loved the blue lace playsuit that Amelia wore in one of the shots (Divine Sisters Playsuit, arriving from September), and also the white top & skirt of the same style (Divine Sisters Top & Skirt, arriving from September) that I was wearing. I found them really delicate and easy to wear, and loved the fabrics.
Amelia: They're all so beautiful it's too hard to pick. Can I say all of them?